Our Services
Beginner/Children Riders
We have boots, riding pants, half chaps, and helmets in kids and ladies sizes from IRH, Ovation, Irideon, and others.
Prices that won't break the bank.
---
Horse Care/Maintenance
We carry a full line of horse care supplies. Hoof care, skin and coat, fly sprays, wormers, treats, wound care, liniments, and leather cleaners and conditioners.
Brands include Farnam, Absorbine, Fiebings, Cowboy Magic, First Companion, Straight Arrow, Lexol, and others.
Stable supplies from halters to horseshoes.
---
Blanket Cleaning and Repair
We are experts at this! We were cleaning & repairing blankets before most stores existed!
In other words, experience. Cleaning and repairing horse clothing of all types for decades. We have the right machinery (not an old washer in the back) and use time-proven methods. Your blanket never leaves our building. We only use strong nylon threads, matching your colors for your blanket repair as much as possible. It's not unusual for us to see our previous repair work on a blanket. The horse may have torn the blanket again, but not in the same place. Our repairs hold up!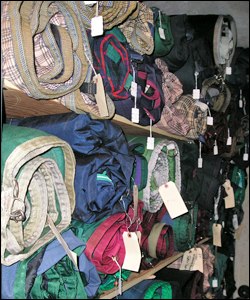 All blankets, sheets and pads
English and Western
Re-waterproofing
Repairs, modifications and adjustments
We Commonly:
Patch tears
Reattach surcingles
Add leg strap 'd's
Add darts
Close fronts
Add fleece to withers
Re-waterproof
Modify
Customize fit
Benefits
40+ years of experience
No shrinkage
Complete inventory of materials right here
Your blankets never leave the building
Color match as much as poss.
No storage fees No 'lost blankets'


---
Saddles & Tack
English and Western!
We have a good selection of English and Western riding equipment. Pads, girths, bridles, bits, leathers and other items to take care of your riding needs.
There is typically a nice selection of used saddles in stock. It's a great way to get more saddle for less money.
Tack Trunks
Apples for apples, these are as good as any you find, at a VERY reasonable price!
The best construction methods, quality woods, and your modifications, if you'd like. Standard size or a smaller "traveling" size. See below for more photos and details.
Standard pine or exotic woods
In-stock or customized
Wheels, nets, nameplates, etc.
Standard Features
Standard pine plywood, oak, birch, or you pick
Brass plated hardware -std
Glue/nail strong construction
Feet to keep it off the floor
2 removable trays included
Full length piano hinge
2 coats urethane - std.
Standard size
Travel size - a couple inches smaller than the standard trunk overall. Lighter to carry, and fits in trailers or through doors easier.
Options
Solid brass hardware
Brass corners
Lid nets
Tray or interior modifications
Wheels
Nameplates
Additional coats of urethane
Interior urethane
Locking lid supports
Cedar lined lid
Available 'naked' (you stain it)
Your custom mod or idea - just ask
---
Tack Repair
We have the experience to do any repair work that your horse can dream of.
Our business started as a harness making company in 1885. We've seen the changes in riding equipment materials, designs, and mfg methods. We fix it correctly and in a timely fashion. Or tell us when you have to have it. We can usually do it.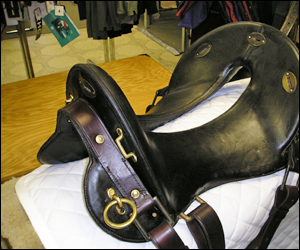 Leather or synthetic
Strap goods and saddles
English or Western
Repairs, modifications, or custom
We commonly :
Replace halter buckles, snaps, and parts
Replace billets
Various saddle repairs
Replace girth elastic
Repair rein hooks
Stitch stirrup leathers
Shorten bridle parts
Move buckles around
Customize lead lines
Repair nylon eqpt.
Make custom straps
Replace rubber rein grips
Repair /modify chaps and 1/2 chaps
Replace chap zippers
Replace 1/2 chap elastic
Clean / oil all tack
120 years of experience
No wondering if the repair will look good or be done right
Work will be done the way you want it done if something special is necessary
In a hurry? Say so. We can usually have your repair done in a hurry if need be.
Your equipment never leaves our building.
Most work is done within a week.
We won't fix it if it's too far gone or not economical for you.
Estimates provided if desired


---
Shipping
Many of our customers are sending us their blanket or leather repair work by UPS or USPS. Just include a note with the items.
We'll do the work and be in contact regarding return shipping and payment.